Sunrise/Sunset, Coos Bay, OR
Coos Bay, OR, Friday, Sept. 29, 2023 – Sunrise: 7:11 a.m., and Sunset: 7:01 p.m., offering 11-hours and 50-minutes of daylight.
Tides Coos Bay, OR Estuary
Coos Bay, OR Estuary for Friday, Sept. 29, 2023 – High tide: 1:43 am., 7.65 ft.; Low tide: 7:55 a.m., -0.24 ft.; High tide: 2:13 p.m., 7.89 ft.; Low tide: 8:24 p.m., -0.21 ft.
29th Coos WA Birthday Bash!!
Saturday Afternoon, September 30, 2023 – Join the Coos Watershed Association board and staff members to remove invasive plants and raise funds to support their important mission in this year's Birthday Bash! This year's event takes place at the Eastside Boat Ramp area, Coos Bay, Saturday afternoon, September 30. The outdoor activity starts with an invasive species pull and native species planting, 2-4pm, and continues with an after-party and fundraiser, 4-6pm. The After Party will feature live music by the South Fork Four and will have food and drink available from Amigas Tacos 'n' More and 7-Devils beer garden, plus information about the Coos Watershed—and a raffle! More information at https://cooswatershed.org/#events The Coos Watershed Association is a 501(c)(3) organization that helps watershed residents work together to improve the health of the Coos Watershed. Visit https://cooswatershed.org/ for more information about the Coos WA.
Paper Arts: Orca's Ocean, with Valerie Flynn
Coos Art Museum, Saturday, Sept. 30, 2-4 p.m., cost $25, all supplies provided, ages 15 to adult, all skill levels welcome. Register online at www.coosart.org or call 541-267-3901.
Felting Program at CBPL
CBPL release – Crafters rejoice! The duchess of felt, LeBrie Rich is visiting the Coos Bay Public Library Saturday, September 30 to offer a series of two free hands-on felting events. The first, at 10:00am, is geared towards young people grades 4-8 and will allow tweens the opportunity to create a felt item from their imagination (pizza, frog, etc). The second workshop, offered at 2:00 pm, is geared towards adults and teens 14 and up will focus on creating felted mushrooms. All supplies will be provided. Limited space is available; pre-registration is required on either the Coos Bay Public Library's website or by calling the Coos Bay Public Library. LeBrie Rich is an artist working in wool felt from Portland, Oregon. She creates felting projects that invite creativity and play and has been offering felt making workshops since 2007. Venues that have shown her work include the Robert Rauschenberg Foundation Project Space in New York, NY; Portland Art Museum and Blackfish Gallery in Portland, OR; and Albus Gallery in Fukuoka, Japan. Her felt sculptures, collages, wearable fiber creations, and workshops for youth have been written about in the New York Times, Hand/Eye Magazine, Make, the Oregonian, and Portland Monthly. For additional information about programs being offered by the Coos Bay Public Library please contact the library by calling (541) 269-1101 x3606 or by visiting the library's website at https://www.coosbaylibrary.org.
South Coast Striders Hike
Tahkenitch Dunes and Threemile Lake Trails–Sunday, October 1, 2023; Requires Registration on our website. Both a short and a long hike will be offered. Experience the amazing diversity of the Oregon coast range on either of these two hikes. You can travel out along the Tahkenitch Dunes Trail as it winds through the woods to where Tahkenitch Creek empties onto the beach and return along the same trail for a 3.5 mile trip out and back. Participants will return to the parking area on their own. This hike should last 2.5—3 hours, or take a longer more vigorous hike–a 6 mile loop combining the Tahkenitch Dune trail and the Threemile Lake trail. We will all hike together on the Tahkenitch Dune Trail to the beach then hike north along the beach then back through the dunes past the beautiful and remote Threemile lake then through a mature and mossy Spruce forest then back to the parking lot. The long hike is rated difficult (mainly due to sand) and should last 4 hours. Bring lunch, plenty of water and dress in layers for hot and sunny to cold, foggy and windy weather. Location and Time: Meet at 9:30 at the Tahkenitch Dunes Day Use Parking Lot; Directions: 8 miles North of Reedsport on your left , Mile post marker 204 on Hwy 101. Please Register for the hike on our website. This is a Forest Service day use area. A $5 day use fee per vehicle or appropriate pass is required for parking at this trailhead. You can purchase a pass online.
DEQ issues 19 penalties in August for environmental violations
DEQ release – The Oregon Department of Environmental Quality issued 19 penalties totaling $218,576 in August for various environmental violations. A detailed list of violations and resulting penalties is at https://ordeq.org/enforcement. Fines ranged from $600 to $31,550. Alleged violations included a city discharging untreated sewage into the Columbia River; a sand and gravel company causing stormwater pollution in a creek; and a gas company submitting inaccurate greenhouse gas emissions data. DEQ issued civil penalties to the following organizations and individuals along the Coast & in Coos Co.: City of Powers, Powers, $4,600, wastewater; Nehalem Bay Ready Mix Mohler Sand and Gravel, Nehalem, $28,216, stormwater; Pacific Seafood – Brookings, Harbor, $28,000, wastewater; Todd Wayne McCloskey, Brookings, $10,441, solid waste; Valley View Mobile Estates LLC, Coquille, $600, wastewater; Western Royal Inn, Tillamook, $12,000, water quality; Organizations or individuals must either pay the fines to the state treasury or file an appeal within 20 days of receiving notice of the penalty. They may be able to offset a portion of a penalty by funding a supplemental environmental project that improves Oregon's environment. Learn more about these projects at https://ordeq.org/sep. Penalties may also include orders requiring specific tasks to prevent ongoing violations or additional environmental harm. DEQ works with thousands of organizations and individuals to help them comply with laws that protect Oregon's air, land and water. DEQ uses education, technical assistance, warnings and penalties to change behavior and deter future violations.
Warrant
According to an entry on the CQPD log for Sept. 27, 7:36 p.m., 500 W. Central Blvd., Masonic Lodge, "warrant service by CQPD on 1 CBPD warrant and 1 NBPD warrant on" 48-year old Harold Rocky White, Jr., charging two-counts Failure to Report as a Sex Offender; Failure to Report as a Sex Offender, "White transported to CCJ."
Violation City Code, NB
According to an entry on the NBPD log for Sept. 27, 8:09 a.m., Union & Montana, "violation city code." At 8:19 a.m., Connecticut & Meade, "violation city code." At 8:35 am., 1900 block Sherman Ave., "violation city code." At 9:35 a.m., Virginia & Sheridan, "violation city code." At 1:27 p.m., 2000 block Sherman Ave., "violation city code."
Warrant
According to an entry on the NBPD log for Sept. 27, 10:25 a.m., 2400 block Stephanie Ln., "suspicious subject," 32-year old Craig Warren Hyatt arrested on two NBPD warrants charging FTA on Placing/Allowing Polluting Substance on Property; FTA on FTA on Criminal Citation, "transported to CCJ."
Illegal Camping, NB
According to an entry on the NBPD log for Sept. 27, 3:05 p.m., 1200 block Clark St., "illegal camping."
Theft
According to an entry on the NBPD log for Sept. 27, 1735 Virginia Ave., Safeway, 57-year old Nancy Crager charged with Theft II, "Crager cited in lieu of custody."
Warrant
According to an entry on the CBPD log for Sept. 27, 6:03 a.m., 800 block So. Broadway, "result of persons contact," 27-year old Caitlin Cheyanne Teves arrested on CBPD warrant charging Theft II, "arrested and transported CCJ."
Warrant
According to an entry on the CBPD log for Sept. 27, 7:40 a.m., 100 block Ackerman St., "warrant service," 31-year old Danielle Jeanette Smith arrested on CQPD warrant charging FTA on Assault IV, & Interfere with Making a Report & Harassment, "Smith transported to CCJ."
Warrant
According to an entry on the CBPD log for Sept. 27, 8:30 a.m., 411 W. 8th St., Medford, "Medford Police served 4 Coos Bay PD warrants on" Stephen Alan Branton charging FTA on Criminal Trespass I & Theft III; FTA on FTA II; FTA on Criminal Trespass I X2 & Theft II; FTA on FTA on Criminal Citation.
Arrest
According to an entry on the CBPD log for Sept. 27, 3:12 p.m., 1000 block Newmark Ave., 30-year old Brianna Carol Huntley charged with Criminal Mischief II, Escape III, "transported to CCJ."
Illegal Camping, CB
According to an entry on the CBPD log for Sept. 27, 11:08 p.m., 200 block Holland St., Empire Boat Ramp, "illegal camping."
WX
Occasional rain along the South Oregon Coast with highs near 60 and winds from the North to Northeast at 10-15 mph. Cloudy tonight with lows in the mid to upper 40s and winds out of the North at 10-15 mph. Mostly sunny on Saturday with highs in the low to mid 60s and winds from the North at 10-20 mph.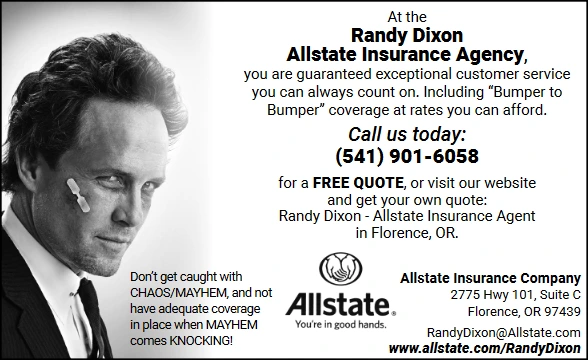 Sports
Prep vb
Marshfield swept visiting North Bend 3-0 in a 4A prep volleyball version of the "Battle of the Bay" Thursday night in front of a loud crowd of fans for both schools at the Pirate Palace, Coos Bay. The Lady Pirates prevailed 25-13, 25-10, 25-19. Marshfield and North Bend will open the second-half of league play next Tuesday with Junction City (0-4, 4-10) at Marshfield (3-1, 16-3) and North Bend (2-2, 11-3) at Marist Catholic (4-0, 13-1). In 3A Thursday night: St. Mary's of Medford won at Brookings-Harbor 3-0. No scores available from the 2A & 1A matches.
Prep sc
In prep girls' soccer Thursday, 3A/2A/1A: Siuslaw lost at Central Linn/East Linn Christian 5-0. Brookings-Harbor won at Rogue River 4-0. St. Mary's Medford won 7-1 at Coquille/Myrtle Pt. In boys' soccer, 3A/2A/1A: Coquille/Myrtle Pt. won at Cascade Christian (Medford) 5-0, Umpqua Valley Christian won at Gold Beach 3-2, and Pacific/Bandon beat visiting Glode 7-2.
Prep fb
It's a pair of non-league prep football games for the Bay Area teams Friday night. The Pirates will travel to Junction City to play the Tigers, while North Bend gets a quick replacement for Klamath Union, after the Pelicans forfeited their home league contest, the Bulldogs will play at Santiam Christian at Adair Village north of Corvallis. Both games kickoff at 7 p.m. In other games, 3A: Creswell @ Siuslaw, Coquille @ Sutherlin, and Phoenix @ Brookings-Harbor. In 2A: Gold Beach @ Bandon/Pacific, Reedsport @ Illinois Valley. 1A8: Lost River @ Myrtle Pt. And, 1A6: Powers at Gilchrist Saturday.
Prep xc
Marshfield and North Bend's cross-country teams will run at the Woahink Invitational, south of Florence, on Saturday.
SWOCC Sports
Southwestern Oregon's volleyball team will host Linn-Benton Friday, 6 p.m. and Lane Saturday, 2 p.m., in a pair of NWAC matches at Prosper Hall on the Coos Bay campus. The Lakers women's soccer team will host Rogue on Saturday, noon, and SWOCC's men host Chemeketa at 2:30 p.m.
Pac-12 vb
Oregon State's volleyball team lost to visiting Washington State 3-0 Thursday night at Gill Coliseum, Corvallis. The Beavers (0-3, 5-8) will host Washington on Sunday, noon, Pac-12 Oregon. Oregon's volleyball team hosts Washington in a Pac-12 match at the Matthew Knight Arena, Friday, 6 p.m., Pac-12 Networks. On Sunday, Oregon hosts Washington State, noon, Pac-12 Insider.
Pac-12 sc
Oregon's women lost 3-1 to visiting Colorado in a Pac-12 soccer match at Eugene Thursday. The Ducks (0-2, 0-8-2) host Utah on Sunday, 1 p.m., Oregon Live Stream-2. Oregon State's women tied visiting Utah 2-2 at Corvallis Thursday. The Beavers (0-1-1, 3-3-4) host Colorado Sunday, 1 p.m., Oregon State's men play at Washington, Saturday, 7 p.m., in a Pac-12 soccer match on Washington Live Stream-2.
Pac-12 fb
Oregon State hosts Utah in a Pac-12 football game Friday, 6 p.m., Reser Stadium, Corvallis, televised on FS1. Oregon's football team travels to Stanford, Saturday, for a 3:30 p.m. game on the Pac-12 Networks.
Seahawks
The Seattle Seahawks have a Monday night game at the New York Giants, Oct. 2, 6:15 p.m., ABC/ESPN.