Sunrise/Sunset
Coos Bay, OR, Thursday, June 8, 2023 – Sunrise: 5:36 a.m., and Sunset: 8:55 p.m., offering 15-hours and 19-minutes of daylight.
Tides Coos Bay Estuary
Coos Bay Estuary tides for Thursday, June 8, 2023 – High tide: 4:55 a.m., 7.36 ft.; Low tide: 11:51 a.m., -1.35 ft.; High tide: 6:48 p.m., 6.12 ft.
South Coast Fire Season 2023
Coos Forest Protective Association – Fire Season will begin on Friday, June 9, 2023 at 12:01 a.m.
Hwy. 38
ODOT release – Wednesday, June 7, 2023, 4:07 p.m.: SW Oregon: OR-38, MP 45: UPDATE: Umpqua Highway (OR-38) six miles west of Drain now has one lane open to traffic. Flaggers are directing traffic in both directions. The highway was closed earlier in the day due to a semi crash and fuel spill. Use caution and expect congestion in the area. More Info TripCheck.
Community Yoga with Kelli Bosak
Coos Bay Public Library, in partnership with yoga instructor, Kelli Bosak, will co-host Community Yoga. Kelli has been practicing yoga and mindfulness for over 16 years. She has taught yoga in community health centers, schools, and jails for adults and families with all levels of experience and abilities over the last 8 years. We meet every 2nd Thursday of the month at 6:00pm. Next class: Thursday, June 8. This virtual Community Yoga class will be a foundational group practice that includes guided instruction (and live demonstration via zoom) of basic postures, simple movements guided by breath, and accessible exercises to build strength and flexibility. Ease of movement, standing postures, supported postures, and some passive stretches will be integrated into class. Time will be given to practice breathwork, visualization and meditation. Emphasis is placed on de-stressing the body and mind to help the student find a deep calm and inner sense of wellbeing. This FREE class is appropriate for all levels. Register for this event @ https://bit.ly/3CbG1VR *Registrants will need to complete a new student & liability form.
Klamath River angling regulations proposed changes for 2024
ODFW release – KLAMATH FALLS, Ore. – In preparation for the removal of JC Boyle Dam in 2024, ODFW is considering modifying and adding to current angling regulations to adapt to the removal of JC Boyle Reservoir and the restoration of fish passage on the Klamath River. A public meeting is scheduled for June 8, 6 p.m., at the Klamath County Fairgrounds in the Linman Hall. A short presentation of the proposed changes will be given followed by a chance for the public to ask ODFW questions and offer comments. Restoration of fish passage will allow anadromous salmon, steelhead, and Pacific lamprey to repopulate the Oregon portion of the Klamath Basin and to accommodate Oregon's active reintroduction of Spring Run Chinook Salmon. ODFW is proposing angling regulation changes in the Klamath River to accommodate anadromous fishes that will soon have access to the upper Klamath Basin for the first time in over a century. Proposed changes (see below for more detail): • Current regulation – Keno Dam to J.C. Boyle Reservoir- Open October 1 – June 15. Bag limit one Redband/Rainbow Trout 15-inch minimum length. Proposed new regulation – Keno Dam to Highway 66 Bridge. Open October 1 – June 15. Bag limit one Redband/Rainbow Trout 12-inch minimum – 15-inch maximum length. Reason for change: This slot limit is to protect large salmon and steelhead smolts and to protect adult steelhead; • Current regulation – J.C. Boyle Reservoir- Zone Regulations. Bait allowed. Bag limit 5 Trout per day; Removing this regulation as J.C. Boyle will be removed entirely. • Current regulation – J.C. Boyle Dam to State Line- Open all year. Bag limit one Redband/Rainbow Trout 15-inch minimum length. Proposed new regulation – Hwy 66 Bridge to State Line – Bag limit one Redband/Rainbow Trout 12 inch minimum – 15 inch maximum length. Reason for change: This slot limit is to protect large salmon and steelhead smolts and to protect adult steelhead. • Proposed angling regulation for the entire zone – Closed to salmon angling all year. ODFW's angling regulation review and alteration process occurs annually for the following year and commences in March with submittal of any proposed changes to ODFW's Fish Division. Part of this process includes working with the Oregon State Police Fish and Wildlife Division, The Klamath Tribes (where applicable), and the public. With the restoration of fish passage on the Klamath River, coordination and communication will also occur with the California Department of Fish and Wildlife and NOAA. For more information about ODFW's role in the reintroduction of anadromous fish to the Klamath River Basin visit: https://www.dfw.state.or.us/fish/CRP/klamath_reintroduction_plan.asp
Commercial Trolling North of Cape Falcon
ODFW release – June 7, 2023 COMMERCIAL TROLL SALMON ACTION NOTICE: The National Marine Fisheries Service (NMFS) in consultation with the Pacific Fishery Management Council (PFMC), the State of Oregon, the State of Washington, and fishery representatives met Wednesday via conference call and have taken the following in-season management action related to the commercial troll salmon season from the US/Canada border to Cape Falcon: ACTIONS TAKEN: Modified the landing limit and possession limit in the area from the US/Canada Border and the Queets River (LaPush and Neah Bay subareas) from 35 to 40 Chinook per vessel per landing week (Thursday-Wednesday) from June 8-21, and from 35 to 40 Chinook per vessel for the period of June 22-29. Modified the landing limit and possession limit in the Westport area between the Queets River and Leadbetter Point from 200 to 250 Chinook per vessel per landing week (Thursday-Wednesday) from June 8-21, and from 200 to 250 Chinook per vessel for the period of June 22-29 (Note that this is also the weekly maximum for all open areas combined). Modified the landing limit and possession limit in the area between Leadbetter Point and Cape Falcon from 80 to 100 Chinook per vessel per landing week (Thursday-Wednesday) from June 8-21, and from 80 to 100 Chinook per vessel for the period of June 22-29. RATIONALE: Harvest through June 7 is projected to total 11,553 Chinook out of the 26,000 Chinook quota, with 424 coming in the Leadbetter Point to Cape Falcon area, and 5,497 coming from the areas N. of the Queets River. Landing week limitations were relaxed to provide the fishery better opportunity to harvest the remaining quota and subarea caps. Additional regulations that apply to vessels fishing out of Oregon North of Cape Falcon that apply to the 2023 seasons include: Vessels landing in Oregon are limited to only fishing between Leadbetter Pt., WA and Cape Falcon, OR. Vessels landing into Oregon must possess a valid commercial license and a valid troll salmon permit. Vessels landing into Oregon are limited to locations on the Oregon side of the Columbia River upstream as far as Tongue Pt., the beaches at Gearhart/Seaside and Cannon Beach, or into Garibaldi. Fishers may not possess Chinook salmon South of Cape Falcon, OR that are less than 28" total length, except that fishers may possess and land Chinook salmon that meet the minimum length of 27" total length on those dates when the troll salmon season has been closed South of Cape Falcon for 48 hours or more (those dates for the 2023 May through September seasons are anticipated to be May 1 through August 31). All salmon must be delivered during the open period or landing week or they will also apply against the week in which they are possessed and delivered. Vessels landing salmon in Oregon from any season North of Cape Falcon are required to notify ODFW within one hour of delivery or prior to transport away from the port of landing by either calling 541-857-2546 or sending notification via e-mail to trollreport@odfw.oregon.gov Notification shall include vessel name and number, number of salmon by species, port of landing and location of delivery, and estimated time of delivery. Visit https://www.dfw.state.or.us/MRP/salmon/ for more information on Oregon's ocean salmon seasons and fisheries.
USCG Completes Voluntary Fairways Study
USCG release – SAN FRANCISCO — The Coast Guard published the Final Report of the Pacific Coast Port Access Route Study (PAC-PARS) in the Federal Register. This is the first comprehensive evaluation of vessel traffic patterns that use Pacific coastal waters off California, Oregon, and Washington. The main goal of the PAC-PARS was to evaluate historic and future waterway usage to determine navigational risk and provide recommendations to uphold safety of navigation. To do this, the study examined vessel tracking data from the past 10 years and considered environmental data, existing and planned offshore development infrastructure, and historical marine incident data among other datasets. The Coast Guard also considered concerns and recommendations from maritime stakeholders, tribes, and members of the public. The Coast Guard received and considered more than 22,000 comments during three public comment periods. The PAC-PARS recommends establishing new voluntary fairways for coastwise and nearshore vessel traffic with connections to existing Traffic Separation Schemes and ports. These fairways facilitate safe and predictable traffic patterns as the demand for and use of Pacific coastal waters increases. "The variety and number of waterway users along the Pacific Coast has dramatically increased over the past decade; in the interest of maintaining navigational safety for all members of the maritime community, the Coast Guard conducted this study. Its fairway recommendations promote safe vessel transits along the coast and connect to major port approaches," said Coast Guard Pacific Area port and waterways specialist, Lieutenant Liesl Olson.  A Notice of Availability for the final study results, as well as the associated appendices and enclosures, were published on the Federal Register under docket USCG-2021-0345, and can be found by searching the docket above at www.regulations.gov Additionally, the study will be available at the USCG Navigation Center's website https://www.navcen.uscg.gov/port-access-route-study-reports.
Fire Season Central Oregon
Oregon Dept. of Forestry release – Prineville, Ore. – Fire season on all lands protected by the Oregon Department of Forestry's (ODF) Central Oregon District will begin June 9, 2023, at 12:01 a.m. Starting this Friday, the district's fire danger level will be "Moderate", and the Industrial Fire Precaution Level (IFPL) will be I (one) in MH-4 and MH-1 (Hood River and Wasco counties). Earlier this year, fire managers were optimistic regarding this year's fire season due to the higher-than-normal snowpack. However, due to the decline in spring rain, rise in temperatures, and windy conditions, the fine fuels in the district have begun to dry significantly. So far this year, the district has experienced 22 fires, of which half were escaped debris burns. Debris burning is the number one cause of human-caused fires. As we move into fire season, debris burning will be prohibited. ODF recommends covering your pile until the rainy fall when it's safer to burn. With that in mind, the Central Oregon District will begin implementing restrictions based on fire danger level. Moderate fire danger level restricts the following activities: • No debris burning, including piles and debris burned in burn barrels. • No fireworks on or within 1/8 of a mile of ODF-protected land. • Exploding targets and tracer ammunition, or any bullet with a pyrotechnic charge in its base, are prohibited. • No smoking while traveling through or working in any operation area. In addition to the fire prevention requirements Under IFPL I (one), the following will go into effect: • A Firewatch is required for a minimum of one hour during breaks and at the end of the operational period. Additional fire restrictions or regulations may apply depending on the various fire risks throughout the fire season. The Oregon Department of Forestry urges residents to not become complacent in wildfire prevention. The less human-caused fires we have, the less the district's resources are strained. For tips on wildfire prevention, visit www.keeporegongreen.org For more information on the Central Oregon District and fire season regulations, visit https://odfcentraloregon.com/. Check your local restrictions at https://www.oregon.gov/odf/fire/pages/restrictions.aspx.
OSU receives grant to study links between changing ocean conditions, movement of fish and geopolitical tensions
By Michelle Klampe, OSU release – CORVALLIS, Ore. – An Oregon State University researcher has been awarded a three-year, $1.4 million grant from the U.S. Department of Defense to lead a study about the movement of fish stocks due to changing climate conditions and the potential geopolitical tensions that could result from that shift. "Fisheries that exist today in the U.S. may move to Canadian or even Russian waters in 20 years," said James Watson, an associate professor in OSU's College of Earth, Ocean, and Atmospheric Sciences and the project's principal investigator. "We will be exploring ways to measure those changes and the potential consequences of those changes, economically and politically, particularly in the Arctic and Pacific oceans." The grant, from the Department of Defense's Minerva Research Initiative, is one of 11 selected from 130 applications based on scientific merit, relevance and potential impact. The initiative's focus is on basic research in social and behavioral sciences on topics relevant to national security. Watson's project is titled: "Future Fish Wars: Chasing Ocean Ecosystem Wealth." The research team includes Steven Mana'oakamai Johnson, who earned his doctorate at Oregon State and is now faculty at Cornell University; Sarah Glaser of the World Wildlife Fund; Cullen Hendrix of the Peterson Institute for International Economics and economist Ethan Addicott of the University of Exeter. The researchers will use machine learning tools to build a database of past conflicts in the Arctic and Bering and Chukchi seas to understand the historical context of disputes in that region, which has a known history of fishing conflicts. It is also a region where sea ice is declining rapidly, opening new areas for fishing and leading to shifts in where marine animals spend time. That data will be combined with economic data on fisheries and climate change models to develop models showing how climate change may impact where fish, and subsequently fishing, may move, the potential economic impacts on communities and where those shifts could lead to conflict, said Watson, who specializes in marine social-ecological systems and understanding complex adaptive systems. "In addition to movement of the fishery, you can also have compression, where the fish and the fishery shift to a smaller space, which can also lead to issues if fleets from different nations try to get the same value out of the ocean even though it is compressed," he said. "Using Earth systems modeling, we can establish where we are likely to see these kinds of issues arise." This kind of research could help inform world leaders so they can prepare for expected changes and work to alleviate associated risks, Watson said. "In today's highly connected world, small tensions can quickly escalate and spiral out of control," he said. "If we can pinpoint when and where those tensions might occur, that could help prevent that."
Booby Trapped Home leads to Federal Conviction
U.S. Attorney's Office – District of Oregon release – MEDFORD, Ore.—On June 2, 2023, a federal jury in Medford found a southern Oregon man guilty of multiple crimes resulting from his boobytrapping of a home that injured an FBI bomb technician. Gregory Lee Rodvelt, 71, a former resident of Williams, Oregon, was found guilty of assaulting a federal officer and using and discharging a firearm during and in relation to a crime of violence. According to court documents, on September 7, 2018, bomb technicians from Oregon State Police (OSP) and the FBI went to a property in Williams formerly owned by Rodvelt that he had lost in lawsuit. After Rodvelt learned that a receiver had been appointed to sell the property, he proceeded to boobytrap it. When the bomb technicians arrived at the property, they observed a minivan blocking the gate. The technicians found steel animal traps affixed to a gate post and under the hood of the minivan. They also located homemade spike strips, which the receiver had previously run over. As the technician neared the residence, they observed a hot tub that had been placed on its side and rigged in a manner that when a gate was opened it would activate a mechanical trigger causing the spa to roll toward the person who had opened the gate. The technicians further observed that the windows of the residence had been barred from the inside and there were security doors at the front and rear of the residence. The front door also had what appeared to be bullet holes from shots fired inside. In the garage, they found a rat trap modified to accept a shotgun shell. Though the trap was unloaded, it was connected to the main garage door so it would be tripped when the door was opened. The technicians and two other law enforcement officers gathered near the front of the residence and used an explosive charge to breach the front door. The group carefully entered the residence, looking for traps, and found a wheelchair in the center of the front entryway. When the wheelchair was bumped, it triggered a homemade shotgun device that discharged a .410 shotgun shell that struck the FBI bomb technician below the knee. The group administered first aid to the wounded technician and transported him to a local hospital. Assaulting a federal officer with a deadly or dangerous weapon is punishable by up to 20 years in federal prison. Using and discharging a firearm during and in relation to a crime of violence is punishable by up to life in federal prison. Rodvelt will be sentenced at a later date by U.S. District Court Judge Michael J. McShane. This case was investigated by the FBI with assistance from OSP and the Bureau of Alcohol, Tobacco, Firearms and Explosives (ATF). It was prosecuted by Judith R. Harper and Jeffrey S. Sweet, Assistant U.S. Attorneys for the District of Oregon.
Warrant
According to an entry on the CBPD log for June 6, 6:09 a.m., 180 NW 5th St., Corvallis, Thomas Alvin Lewis, Jr. "arrested on Corvallis PD on a Coos Bay warrant charging Driving Under the Influence of Intoxicants."
Warrant
According to an entry on the CBPD log for June 6, 7:27 a.m., 250 No. Baxter St., Coquille, "Coos County SO arrested" 33-year old Sarah Nichole Burnett on CBPD warrant charging Using Child in Display of Sexually Explicit Conduct, two-counts Encouraging Child Sexual Abuse in the First Degree, two-counts of Sexual Abuse in the Second Degree, Rape in the Third Degree and Sodomy in the Third Degree, "Burnett was transported to CCJ."
Theft
According to an entry on the CBPD log for June 6, 2:38 p.m., 1020 So. 1st St., Fred Meyer, "result of a shoplifter," 19-year old Damien Daniel Ocacio charged with Theft III, "Ocacio transported to CCJ."
Warrant
According to an entry on the CBPD log for June 7, 1:26 a.m., Cammann & Newmark, "suspicious conditions / warrant service," 49-year old Robert Joseph Eddington arrested on Oregon State Parole Board warrant charging Parole Violation on Dangerous Drugs, "Eddington was transported to CCJ."
UEMVs
According to an entry on the NBPD log for June 6, 11:15 a.m., 3400 block Pine St., "unlawful entry into MV." At 5:40 p.m., 2100 block Union St., "unlawful entry into MV."
WX
Generally cloudy along the South Oregon Coast with highs in the low 60s and winds out of the West to Northwest at 10-15 mph. Cloudy with lows in the lower 50s tonight and winds out of the West to Southwest at 5-10 mph. Cloudy skies early Friday, then partly cloudy in the afternoon with highs in the low 60's.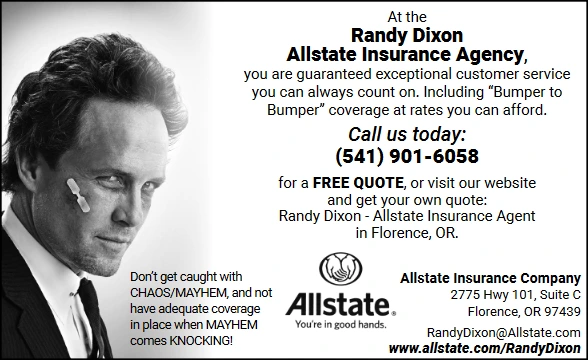 Sports
UO BB Super Regional Sold Out
UO release – EUGENE, Ore. – Because of significant demand, this weekend's NCAA Baseball Super Regional games between the University of Oregon and Oral Roberts University are sold out. In the event temporary bleachers are approved or unclaimed tickets from the visiting team become available, there may be additional tickets on sale Friday morning. Duck fans are encouraged to wear green all weekend. To enhance the fan experience before the Super Regional games on Friday and Saturday, a new and exciting PK Park FanFest concept will activate in the area between Autzen Stadium and Pape Field beginning three hours before first pitch, 2 p.m. on Friday and 3 p.m. on Saturday. FanFest will include food trucks, a beer garden, tents and televisions to watch games, a live DJ, shaved ice, photo opportunities, Kids Zone inflatables, and appearances by The Duck and the Oregon Cheerleaders. All fans are welcome, and a game ticket is not required to attend PK Park FanFest. The Oregon-Oral Roberts game will also be shown on the back of the Autzen Stadium video board during each game as well as in the FanFest area for those without game tickets. There will also be a dedicated FanFest area for UO students that includes food, free T-shirt giveaways, face painting, and the opportunity to make posters to take into the game for those with game tickets. For more information, please visit www.goducks.com/SuperRegional.
UO at NCAA Track Championships
UO release – AUSTIN, Texas – Micah Williams turned in a qualifying effort on day one of the NCAA Championships and will run for a national title Friday night in the 100 meters. Additionally, UO freshman Rafael Raap posted a pair of season bests in the decathlon. Williams, back on the track from relay duties in the first event of the evening, posted a season best of 10.03 to secure a lane in Friday's 100-meter final. The UO junior was third in the final heat to grab the first of two on-time qualifiers. Williams will be making his third-career appearance in the NCAA final of the 100 meters. The Portland, Ore., native lines up for a national title Friday at 6:52 p.m. (PT) on ESPN2. Williams was seventh last season and ran to a bronze finish in 2021. Raap posted two season bests Wednesday with his efforts in the long jump (7.18m/23-6.75) and high jump (1.92m/6-3.5). Through the first five events of his NCAA debut, he has 3,915 points which is just two points off his day-one score at the Pac-12 Championships. Raap sits in 16th place overall after the first day in Austin. The decathlon continues Thursday with the 110-meter hurdles at 10:30 a.m. (PT). The final day of the 10-event competition also includes the discus, pole vault, javelin and 1500 meters. The final event will go off at 7:56 p.m. as part of the ESPN2 broadcast window. In a bittersweet result, the 4×100-meter relay of Williams, Ryan Mulholland, Xavier Nairne and PJ Ize-Iyamu Jr., combined for a season-best time of 38.93 but did not advance to Friday's final. The quartet became the fifth to dip under 39 seconds in program history and moved from eighth to fifth on the all-time UO list. The team began the day with a previous best of 39.08 from the Desert Heat Classic in late April. Teams needed to run 38.67 or faster in the semifinal round to qualify for the nine-team final. Running in the first of two heats in the steeplechase, Alex Slenning went from ninth to sixth over the final lap to grab one of the two at-large spots with one race to go. The Pac-12 bronze finishes passed two runners after the final barrier, crossed the finish in 8:44.60 and then sat through heat two to see whether the time would stand up. Unfortunately for the Portland native, the second heat got out to a faster pace which resulted in both on-time qualifiers to come out of that race. The second at-large crossed in 8:43.18 to push Slenning down to 13th overall, one spot out of qualifying. In the Ducks' last semifinal, UO sophomore Matthew Erickson recorded a time of 1:49.42 in the third heat of the 800 meters but did not advance. He finished sixth in his heat and 16th overall. Erickson was making his debut at the national meet. Up next: Day two of the NCAA Championships will mark the beginning of the women's competition and the last five events of the decathlon. The Women of Oregon will have scoring opportunities Thursday in the long jump (Alysah Hickey), shot put (Jorinde van Klinken, Jaida Ross) and hammer (Shelby Moran). The Ducks' schedule will also include semifinals in the 200, 800, 1500, 400 hurdles and both relays. All semifinals will air on ESPN2 beginning at 5:30 p.m. Field events and the decathlon will be streamed on ESPN+ event-specific links.
OSU Women at NCAA Track Championships
OSU release – AUSTIN, Texas – Oregon State will have three opportunities to secure the school's first individual national championship since 1975 this Thursday and Saturday. Kaylee Mitchell and Grace Fetherstonhaugh open the weekend in the 3,000-meter steeplechase prelims on Thursday at 6:02 p.m. PT. The top five finishers in each heat, as well as the next two best times advance to Saturday's finals at 6:24 p.m. PT. Jade Whitfield is in the second of two discus heats with an estimated start time of 6:30 p.m. PT. If any of the three earns a national title, it would be OSU's first in the NCAA and first women's track and field title since Robin Blaine, Kathy Costello, Kristin Trom and Kathy Weston brought home the AIAW National Championship in the two-mile relay in 1979. Joni Huntley is Oregon State's last individual national champion with high jump and long jump victories in 1975.