Sunrise/Sunset, Coos Bay, OR
Coos Bay, OR, Friday, Sept. 22, 2023 – Sunrise: 7:03 a.m. & Sunset: 7:14 p.m., offering 120hors & 11-minutes of daylight.
Tides Coos Bay, OR Estuary
Tides for the Coos Bay, OR Estuary, Friday, Sept. 22, 2023 – Low tide: 1:12 a.m., 0.44 ft.; High tide: 8:07 a.m., 4.85 ft.; Low tide: 12:29 p.m., 3.35 ft.; High tide: 6:47 p.m., 6.79 ft.
Sanitary Sewer Overflow
The City of Coos Bay has contracted with Pacific Excavation to upgrade the pump station located at 400 Kruse Avenue. In order to perform upgrades to a pump station the sanitary sewer that normally is conveyed to the pump station must be bypassed around the pump station. The bypass pumping was set up at the intersection of Kruse Avenue and S. 7th Street. Wednesday morning, the contractor's bypass pumping hose connection had failed and was discharging sanitary sewer onto the street and ultimately to the storm drain system which discharges to the bay. The contractor fixed the connection and the spill stopped but the contractor reported to the City that approximately 118 gallons was spilled. Because the sewer was released at a location that was not permitted, the Department of Environmental Quality requires this event to be classified as a Sanitary Sewer Overflow (SSO) and the Oregon Emergency Response System to be notified. Any questions can be directed to the City of Coos Bay Public Works Department at 541-269-8918.
2023-2024 COVID-19 vaccines are here
OHA release – The next round of mRNA COVID-19 vaccines is here, and the guidance for who should get it, and when, is much simpler than before. Most people ages 5 and older should receive one dose of the updated shot, while recommendations for children under 5 and those with compromised immune systems are slightly different. The vaccine will be available at no cost to the public through providers, pharmacies, local health centers, and tribal or territorial health departments. Find an updated 2023-2024 COVID-19 vaccine near you by searching at Vaccines.gov.
Employment on the South Coast: August 2023
Oregon Employment Dept. release – South Coast Payroll Employment Up by 750 Jobs Over the Year Coos County total payroll employment rose by 70 jobs in August. Industries with estimated jobs gains over the month were professional and business services (+40), leisure and hospitality (+20), and transportation, warehousing, and utilities (+20). Wood products manufacturing employment fell by 10 jobs in August. Government had a net job loss totaling 20 over the month, with the job decline in the local government portion. Coos County payroll employment rose by 560 jobs over the past year. Gains were estimated in leisure and hospitality (+250), professional and business services (+170), construction (+80), and other services (+50). Industries with estimated job losses over the year included retail trade (-70), mining and logging (-40), and manufacturing (-40). Government employment climbed by 30 jobs with gains in Indian tribal (+50). Job losses occurred in local government excluding education and tribal (-20), and local government education employment slipped by 20 jobs over the year. Curry County payroll employment gained 50 jobs in August. Construction, financial activities, and leisure and hospitality each added 10 jobs over the month. Government employment rose by 30 jobs with a gain of 20 in local government education and 10 jobs added in local government excluding educational services. Over the past year, Curry County payroll employment added 190 jobs. Industries with estimated jobs gains included leisure and hospitality (+100), financial activities (+30), and health care (+20). On the other hand, a few industries showed slight job losses since August 2022 including construction (-20), manufacturing (-20), retail trade (-20), and professional and business services (-10). Government employment increased by 120 jobs, with local government excluding educational services up by 100 jobs, accounting for most of the gain.
South Coast Unemployment Rate
Oregon Employment Dept. release – Coos Co.: Aug. 2023 – Unemployed: 1,229, Rate: 4.7% (SA 4.3%). July 2023 – Unemployed: 1,227; Unemployed: 4.7% (SA 4.4%); Aug. 2022 – Unemployed: 1,618, Rate: 4.7% (SA 5.6%). Curry Co.: Aug. 2023 – Unemployed: 412; Rate: 4.4% (SA 4.3%); July 2023 – Unemployed: 400; Rate: 4.3% (SA 4.4%); August 2022 – Unemployed: 554; Rate: 5.8% (SA 5.8%).
Consortium receives National Science Foundation funds to continue initiative that monitors ocean conditions in real time
By Michelle Klampe, OSU release – CORVALLIS, Ore. – The U.S. National Science Foundation has awarded a coalition of academic and oceanographic research organizations including Oregon State University a five-year, $220 million cooperative agreement to continue operating and maintaining the Ocean Observatories Initiative. Woods Hole Oceanographic Institution leads the consortium, which also includes the University of Washington. Under the initiative, five observatories in the Atlantic and Pacific oceans, together outfitted with more than 900 instruments, continually collect and deliver data to shore via a cyberinfrastructure that makes the data readily available to anyone with an internet connection. The system measures physical, chemical, geological and biological properties and processes from the seafloor to the sea-air interface in key coastal and open-ocean sites, including critical climate indicators such as ocean water acidity and the concentration of dissolved carbon dioxide. Data collected helps address critical questions about the Earth-ocean system, including climate change, ecosystem variability, plate-scale seismicity and submarine volcanism, with the goal of bettering understanding of the ocean and the planet. "This National Science Foundation facility is critical to helping scientists and the public understand the changes underway in our oceans," said Tuba Özkan-Haller, dean of OSU's College of Earth, Ocean, and Atmospheric Sciences, which oversees the university's portion of the project. "We are pleased to be part of this consortium and look forward to another five years of research and discovery." Each participating institution will continue to operate and maintain a portion of the Ocean Observatories Initiative assets that were first deployed in 2015 and have been collecting vast amounts of data ever since. Oregon State oversees the stand-alone moorings of the Endurance Array, the initiative's observatory off the coast of Washington and Oregon, and also manages the initiative's data transmission cyberinfrastructure, with a data center headquartered in Corvallis. To support these National Science Foundation facilities, the OSU research team will receive $32.7 million for the Endurance Array and $15.9 million for the data center. The university also will receive funding for ship time to deploy and service equipment in the Pacific Ocean. This brings OSU's total National Science Foundation funding to support the Ocean Observatories Initiative to $194 million since 2007. "OSU's participation in the OOI builds on a legacy of 60-plus years of oceanographic research here," said Ed Dever, professor in the College of Earth, Ocean, and Atmospheric Sciences and principal investigator for the OOI Endurance Array. "Together with our partners, we're committed to the stewardship of this facility for the NSF and the ocean research community." As part of the Endurance Array, OSU manages seven surface moorings off Newport, Oregon, and Grays Harbor, Washington, four of which monitor several meteorological factors, including wind speed, solar radiation, air temperature and rainfall. The moorings also collect oceanographic data, including water temperature, salinity and chemical measurements such as oxygen, nitrogen, pH and carbon dioxide levels. Biological sensors track chlorophyll levels and dissolved organic material, which are important indicators for marine productivity. Bioacoustic measurements use sound waves to document the presence of plankton and small fish. The northeastern region of the Pacific Ocean is a focal point for scientists because of emerging issues including hypoxia and marine "dead zones," marine heatwaves, subduction zone earthquakes, tsunamis, harmful algal blooms, wave energy potential, ocean acidification and dramatic variations in some upwelling-fed fisheries. "The data we've been collecting are essential to understanding the regional physical and ecosystem response to climate change," Dever said. "This new award will make possible the continued collection of research data, upgrades to measurement technologies and improved curation of historical OOI data. While the OOI is designed as a research facility, the data collected has important uses for policymakers, educators and mariners." Oregon State assumed management of the data center and cyberinfrastructure for the initiative in 2020. In the coming years, the data center will be vastly expanded to accommodate a quadrupling of the data that is projected to be collected over the next five years. The center's speed, security and computational power will be improved, said Anthony Koppers, the principal investigator for the OSU cyberinfrastructure team. "The NSF OOI data center will need to keep growing and modernizing to best serve tomorrow's end-user research needs," said Koppers, who is associate vice president for research advancement and strategy in OSU's research office and a professor of marine geology in the College of Earth, Ocean, and Atmospheric Sciences. "Therefore, we are providing OOI with a low-risk but state-of-the-art data center and research computing solution that will not only negate any system downtime and provide easy and fast cloud-equivalent access to petabytes of data for researchers and students across the globe." WHOI will continue to serve as the home of the National Science Foundation OOI Project Management Office and will operate the Pioneer Array in the mid-Atlantic Bight off the North Carolina coast, subject to environmental permitting, and the Global Arrays in the Irminger Sea off the southern tip of Greenland and at Station Papa in the Gulf of Alaska. The University of Washington will operate the Regional Cabled Array that extends across the Juan de Fuca tectonic plate and overlying ocean. The Project Management Office at Woods Hole collaborates with the National Science Foundation to provide high-level oversight and financial management of the project. In addition, the office coordinates with partner institutions to establish annual priorities for each of the arrays individually, for the data center and for the overall OOI network. "The WHOI team and our partners at UW and OSU have learned a great deal over the past five years and are grateful that our efforts to perfect OOI and its data delivery system have been recognized," said Woods Hole Senior Scientist Jim Edson, lead principal investigator on the initiative. "We look forward to the next five years where we can continue to perfect our collection and serving of data, while encouraging it increased use and collaboration among ocean scientists funded by NSF and other agencies." The Ocean Observatories Initiative officially launched in 2009, when the National Science Foundation awarded the first cooperative agreement to support the construction and initial operation of OOI's cabled, coastal and global arrays. Funding continued with a new award for OOI's operation and management in 2018.
Free pheasant hunts for youth hunters around the state in September – Register now!
ODFW release – SALEM, Ore.—Youth hunters (age 17 and under) who will have completed hunter education by the time of the event can sign up now for ODFW's free pheasant hunts happening around the state starting in September, https://myodfw.com/articles/youth-pheasant-hunts ODFW and partners stock pheasants at these special hunts that give youth a head start on regular pheasant seasons, which don't begin until October. They are mostly held on ODFW's wildlife areas, with a few exceptions (see more detail on locations below). Volunteers bring their trained hunting dogs to some events. Some events also host a shooting skills session before the hunt. ODFW recommends youth register in advance for an event, but walk-ins are also welcome if space allows. Register by logging in to the youth's account at MyODFW's Licensing page. Then go to Purchase from the Catalog and look under the Category/ Class/Workshop / Outdoor Skills. Hunts are listed alphabetically by city name. Final details about the event will be emailed to the address within the account. Registration is only online; it is not available at license sale agents. Some have multiple hunt times to choose from. The hunts are free, though participants need a valid hunting license ($10 for youth 12 and older, free for age 11 and under) to hunt. Youth hunters age 12-17 also need an upland game bird validation ($4). Purchase before the event, online or at a license sales agent. Licenses and validations will not be sold at the events. Some areas will host the event both Saturday and Sunday. Youth who register for one day are welcome to hunt stand by on the other day. "Youth pheasant hunts are a great chance for young hunters to find early success and put the lessons learned in hunter education to work in the field," said Jered Goodwin, ODFW hunter education coordinator. See page 26-27 of the Oregon Game Bird Regulations for more information, or see https://myodfw.com/articles/youth-pheasant-hunts for the local contact for each hunt. For help signing up, contact Myrna Britton, (503) 947-6028, Myrna.B.Britton@odfw.oregon.gov Coos Co. Youth pheasant hunt date: Coquille, Coquille Valley Wildlife Area, Sept. 23 and 24.
Sky Watching Events at State Parks
OPRD release – L.L. Stub Stewart and Rooster Rock state parks will celebrate the beginning of autumn with free star-gazing parties starting at sunset Saturday, Sept. 23. The parks are partnering with OMSI and Rose City Astronomers to host the events, which include a presentation at dusk and star gazing 9 to 11 p.m. Telescopes will be provided by volunteers and visitors are welcome to bring their own. Viewing highlights include stars, Jupiter, Saturn and more, weather permitting. The event is free, but parking in the day-use area does require a $5 parking permit fee per vehicle. The star party at L.L. Stub Stewart also requires a free Stargazing permit, which is available at the park. Visitors are encouraged to bring their own chairs, blankets, warm clothing, snacks and water. Bug repellent is always a good idea. Please use red flashlights to avoid interfering with the dark sky viewing. You can also cover your flashlight or smartphone with red electrical tape. Star maps will be provided along with recommended astronomy apps that visitors can load on their phones if interested. Visitors should arrive early to familiarize themselves with the area and only park in designated spaces for the event. Overnight camping is not permitted in day-use areas, though visitors can find campground reservations by visiting stateparks.oregon.gov. Guests are expected to exit Rooster Rock by 11 p.m. as the park will close at that time. On the scheduled day for OMSI Star Parties, interested visitors should check back on the OMSI website for possible weather-related cancellations and any additional information. The long-range forecast looks like it offers great viewing opportunities for this event.
Indecent, CQ
According to an entry on the CQPD log for Sept. 20, 9:26 a.m., Coquille Riverwalk, "indecent exposure."
Illegal Camping, NB
According to an entry on the NBPD log for Sept. 20, 8:27 a.m., Harbor, "illegal camping." At 1:31 p.m., Kinney & Ken Ware, "illegal camping." At 8:29 p.m., Kinney & Edgewood, "illegal camping," "Ticket," 37-year old Robert Sant, 51-year old Justin Dennis, and 54-year old Pearl Dennis. At 9:21 p.m., Sheridan & California, "illegal camping."
Warrant
According to an entry on the NBPD log for Sept. 20, 9:44 a.m., 1800 block Virginia Ave., "subject tearing down fencing/barrier outside building," 32-year old Craig Warren Hyatt arrested on two NBPD warrants charging FTA Placing/Allowing Polluting Substance on Property; FTA on FTA on Criminal Cite., "transported to CCJ."
Burglary
According to an entry on the NBPD log for Sept. 20, 10:11 a.m., 2100 block Marion Ave., "burglary."
Violation City Code, NB
According to an entry on the NBPD log for Sept. 20, 7:33 p.m., Cedar & Commercial, "violation city code,"
Criminal Trespass
According to an entry on the NBPD log for Sept. 20, 7:47 p.m., 1100 block Newmark St., "assist fire," 35-year old Timothy Scott Loew and 40-year old Matthew Warren Arnold both charged with Criminal Trespass II, "both subjects cited in lieu of custody."
Warrant
According to an entry on the NBPD log for Sept. 21, 1:18 a.m., 555 Liberty St., Salem PD, "warrant service," 35-year old Mark Anthony Dixon arrested on three NBPD warrants charging Probation Violation on Unlawful Possession of Meth; FTA Criminal Trespass I, Theft III, Unlawful Possession of Meth & Criminal Mischief III, and Public Indecency & Private Indecency, "arrested by Salem PD."
Illegal Camping, CB
According to an entry on the CBPD log for Sept. 20, 6:04 a.m., 285 So. Broadway, Old World Antiques, "out with camping violation at location."
Violation City Code, CB
According to an entry on the CBPD log for Sept. 20, 6:07 a.m., Hall Ave., just east of So. 1st St., "out with large camp at location." At 6:19 a.m., So. 4th St. & Bennett, "out with 1 camping at location." At 6:21 a.m., So. 4th St., & Anderson Ave., "out with subjects camping at location." At 6:31 a.m., Thomas Ave. & LaClair, "violation city code – illegal vehicle. At 6:34 a.m., 200 block of So. Schoneman, "out with MH at location." At 7:24 a.m., Mill & Newmark, "violation city code." At 1:42 p.m., 4th & Anderson, "violation city code." At 2:58 p.m., Thomas & LaClair, "violation city code."
Warrant
According to an entry on the CBPD log for Sept. 20, 7:29 a.m., 800 block Newmark Ave., "out with a camping violation," 24-year old Christopher Larry Coker arrested on NBPD warrant charging FTA on Disorderly Conduct II, "transported to CCJ."
Arrest
According to an entry on the CBPD log for Sept. 20, 3:22 p.m., 500 Central Ave., "arrest for PC," Gregory Lance Nidever charged with Theft II, "transported CCJ."
Kidnap
According to an entry on the CBPD log for Sept. 20, 4:38 p.m., 1995 Newmark Ave., Staples, "suspicious condition/weapon offense," 32-year old Terry Justin DeWolf charged with Kidnap I, Robbery I & Coercion; and, 29-year old Donald Evan Bignell charged with Kidnap I, Robbery I, Coercion, UUMV, Unlawful Use Weapon & Felon Possession Firearm, "both subject transported to CCJ."
Robbery
According to an entry on the CBPD log for Sept. 20, 8:50 p.m., 400 block So. Empire Blvd., "robbery."
WX
Sunny along the South Oregon Coast with highs in the upper 60s and winds shifting to the West to Northwest at 10-15 mph. Cloudy skies tonight with lows near 50 and winds light and variable. Cloudy with highs in the mid 60s on Saturday.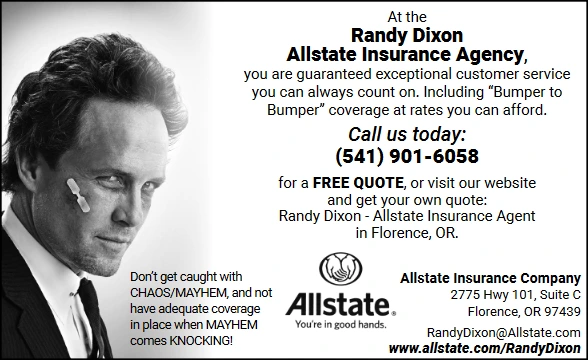 Sports
Youth Hoop Group Basketball Camp 2023
SWOCC release – Coos Bay, OR – Southwestern Oregon Community College athletics is once again pleased to host the youth Hoop Group basketball camp for kindergarten through 8th grade students this fall 2023. Hoop Group is led by the current 2023-24 men's and women's coaches and players, designed to prepare local youth for the upcoming basketball season. These one-day camps take place on select Sundays starting September 24, 2023, from 5 – 6:30 p.m. in Prosper Hall on Southwestern's Coos Campus (1988 Newmark Ave., Coos Bay). The camp fee is $20 per player, per day. Proceeds will support Southwestern's basketball teams. Participants are welcome to register at the door. To pre-register a participant, or for any other camp information email Heather Weber at heather.weber@socc.edu. Hoop Group Fall 2023 Dates: All on Sundays from 5 – 6:30 p.m. in Prosper Hall: September 24; October 1; October 15; October 22; October 29; November 5.
Prep fb
Marshfield hosts Klamath Union at Pete Susick Stadium, Coos Bay, and North Bend travels to the Klamath Basin to play Mazama in Special District 4 prep football Friday night. Both games begin at 7 p.m. In 3A: Siuslaw at Harrisburg, Sutherlin at Brookings-Harbor, and Cascade Christian at Coquille all beginning at 7 p.m. In 2A: Bandon/Pacific at Glide and Rogue River at Reedsport. Both kickoff at 7 p.m. In 1A6: Powers at Days Ck., 4 p.m. start. On Saturday, 1A8: Chiloquin is at Myrtle Pt. for a 2 p.m. game. 2A: North Douglas/Yoncalla at Gold Beach, 4 p.m.
Battle at the Bay VB
Marshfield will host the Battle of the Bay volleyball invitational Saturday at the Pirate Palace, Coos Bay. The Lady Pirates play 5A North Eugene at 11 a.m., 5A Thurston at 1 p.m., and 4A Cascade at 4 p.m.
Prep vb
Thursday night matches, Sept. 21, 2023 – 3A – Coquille beat visiting Glide 3-1, no scores Sisters at Siuslaw and Brookings-Harbor at Del Norte. In 2A – Waldport won at Gold Beach 3-1; no score Bandon at Oakland or Illinois Valley at Reedsport. In 1A, Myrtle Pt. beat visiting Powers 3-1 and Pacific lost at Days Ck. 3-0.
Prep vb
North Bend volleyball will compete at the North Marion Invite on Saturday with Pendleton, St. Helens, Astoria, Cottage Grove and Madras participating along with the host Huskies. In 3A: Lakeview at Brookings-Harbor, 1:30 p.m., In 1A: Powers at 2A Oakland, noon. In 2A: Reedsport at Mustang Classic, Mohawk HS.
Prep sc
Thursday scores – Boys 3A: Siuslaw/Mapleton beat visiting Elmira 6-0; Coquille/Myrtle Pt. lost at Sutherlin 2-0; Gold Beach fell at Cascade Christian 1-0 and no score Douglas at Pacific/Bandon. In girls' soccer, Santiam Christian and Siuslaw tied 5-5 at Florence; Coquille/Myrtle Pt. lost at Lakeview 8-4.
Prep sc
St. Mary's Medford at Brookings-Harbor boys in 3A/2A/1A prep soccer Saturday, 1 p.m. Girl's prep soccer, 3A/2A/1A: Coquille/Myrtle Pt. at Lost River/Bonanza, Friday, 2 p.m.
Prep xc
Both North Bend and Marshfield cross country teams will run Saturday at the Annual Northwest Classic at Lane CC, Eugene.
SWOCC Sports
Southwestern Oregon's volleyball team is at Clackamas, Oregon City, Friday, 6 p.m., and Chemeketa Saturday, 2 p.m. in a pair of NWAC matches. The Laker's women host Chemeketa Saturday, 1 p.m., in an NWAC soccer match on the Coos Bay Campus. The Laker men host Centralia, Saturday, 2:30 p.m., also in an NWAC soccer match.
Pac-12 fb
Despite the abandonment of the Pac-12 by its members in a mass exodus this year to believed to be greener pastures, the final year of the "Conference of Champions" begins for the football teams Saturday and oh what a match up of unbeaten teams. All are 3-0, No. 19 Colorado at No. 10 Oregon, Autzen Stadium, Eugene, 12:30 p.m., ABC TV, and, No. 14 Oregon State plays at Washington State, Martin Stadium, Pullman, WA, 4 p.m., Fox TV (former Marshfield grad and Oregon Head Coach Mark Helfrich Analyst).
Pac-12 vb
It's game one of the "Battle for the State of Volleyball" between Oregon and Oregon State. The two Pac-12 members open league play against one another at Matthew Knight Arena, Eugene, Friday, 7 p.m., Pac-12 Networks. On Sunday, the Ducks travel to Los Angeles to play UCLA, 2 p.m., Pac-12 Los Angeles. OSU is at the Ducks Friday, on Sunday, the Beavers play USC at Los Angeles, 1 p.m., Pac-12 Networks.
Pac-12 sc
Oregon's women have a Pac-12 soccer match at Tucson, AZ Friday, 7 p.m., against Arizona on Pac-12 Arizona. Oregon State's women are at Tempe, AZ to play Arizona State Friday, 7 p.m., ASU Live Stream. OSU's men host Loyola Marymount, Sunday, Corvallis, 1 p.m.
Pac-12 xc
Oregon's cross-country teams and Oregon State's women will run in the annual Bill Dellinger Invitational, Friday, 11 a.m., Springfield Country Club. Televised on RunnerSpace.
Seahawks
The Seattle Seahawks host the Carolina Panthers Sunday, 1:05 p.m., in an NFL Game on CBS-TV.