Sunrise/Sunset Coos Bay, OR
Coos Bay, OR, Friday, June 2, 2023 – Sunrise: 5:39 a.m., and Sunset: 8:50 p.m., offering 15-hours and 11-minutes of daylight.
Tides Coos Bay, OR
Tides for the Coos Bay Estuary for Friday, June 2, 2023 – High tide: 12:15 a.m., 7.48 ft.; Low tide: 7:14 a.m., -0.75 ft.; High tide: 1:47 p.m., 5.63 ft.; Low tide: 6:49 p.m., 2.39 ft.
Sanitary Sewer Overflow
City of Coos Bay release – The City received a citizen concern regarding liquid coming out of a manhole. After investigating, it was discovered that a sanitary sewer line along N. 12th Street was blocked causing sewer to back up through the manhole. This is referred to as a sanitary sewer overflow (SSO). The SSO has been contained and approximately 380 gallons discharged from the location but did not enter any waterway and has been cleaned up by the City. The City confirmed that the blockage was due to excessive Fats, Oils & Grease and "flushable" wipes in the line. Please always remember only toilet paper is to be flushed down the drain as wipes can cause large backups in the sanitary sewer system. Oregon Department of Environmental Quality and the Oregon Emergency Response System were notified of the incident. Any questions can be directed to the Coos Bay Public Works Department at 541-269-8918 extension 3564.
North Bend Pool
Following a long closure, the only indoor municipal pool in the Bay Area reopened Thursday, June 1st. The North Bend Municipal Pool, closed during the pandemic and much-needed renovation to aging equipment, noted the re-opening on its webpage, "We want to give a special shout-out to the Judith Ann Mogan Foundation and Coquille Tribal Community Fund for their generous grants toward the $1.4 million in City Council-approved infrastructure upgrades and repairs to your community pool up and running again. We have posted our schedule to the pool's Facebook (https://www.facebook.com/northbendpool/) and city website (https://www.northbendoregon.us/pool). Swim lessons, other classes, insurance/specialty programs, and services will begin to be added as we onboard and train our new staff members. We will start small and continue to grow from there. Thanks for your patience."
Full Moon Kayaking Trip with South Slough Estuary Reserve
Full Moon Kayaking Trip – South Slough Reserve release – Come experience the South Slough Estuary Reserve as the sun slips behind the horizon and the near full moon climbs into the evening sky on Friday, June 2 from 6-10 p.m. Awaken the senses as light and shadows play on the water and the evening air is filled with a chorus of creatures. During the four-mile paddle, experienced guides will show you areas of the Reserve rarely seen by visitors. Bring your own kayak or canoe or rent one from us! Feet and legs may get wet and muddy at launch points. Driver and shuttle will be provided. For your safety and the safety of others on the water, please leave your pets at home. Meet at the Distant Water Fleet Parking Lot in Charleston next to Qualman's Oysters. Programs may be cancelled due to low enrollment or hazardous weather. For question, contact the South Slough Reserve at 541-888-5558, ext. 121.
NBPL Event, Street Closure
City of North Bend release – Beginning on Saturday, June 3, 2023, at 11:00 am, the City of North Bend will be closing the 1800 block of Union Ave. between California and Connecticut for a City of North Bend Public Library event. The event is scheduled to be completed at 4:00 pm on the same day. Motorists are requested to utilize alternate routes. The City of North Bend thanks you in advance for your patience in this matter.
Children's Messtival at NBPL
The North Bend Public Library is holding a Children's Messtival: A Messy Festival on Saturday, June 3 from 1:00-3:00 PM. The Messtival is a free event and will be located on Union Street behind the library. Children ages 3 through 10 are invited to play and explore mud, Oobleck, jello, foam, water, and more. Participants should expect to get messy and are encouraged to wear clothes and shoes that can get messy as well and to bring towels and a change of clothes. All participants must be accompanied by a caring adult. For more information about this event, contact the library at (541) 756-0400 or email nbservices@northbendlibrary.org.
State Parks Day in Oregon
Celebrate State Parks Day with free parking and free RV and tent site camping at all Oregon State Parks June 3 as well as special events at selected parks. Oregon Parks and Recreation Department (OPRD) will waive day-use parking fees at the 25 locations that charge them June 3 and June 4. OPRD will also waive camping fees for all tent, RV and horse campsites June 3. State Parks Day has been a tradition since 1998 as a way to thank Oregonians for their support of the state park system over many decades. "Oregon has one of the best state parks systems in the country, and it's because you have invested in parks, cared for them and preserved them for everyone to enjoy. Thank you," said OPRD Director Lisa Sumption. State Parks Day Events: Several free special events and service projects are planned June 3 to celebrate State Parks Day: Cove Palisades: Festival of the Land is a free festival that celebrates the diverse history, food and culture of Central Oregon 10 a.m. to 3 p.m. The event includes: archeology hikes, kids' games and activities, petting "zoo", mini farmers market, pollinator, wildfire and fish displays, fry bread and more. Smith Rock: Trail Keepers of Oregon will lead a group of volunteers on some trail maintenance projects on trails in the park 8:30 a.m. to 3:30 p.m. Bring snacks, lunch, water and work gloves. Free. Registration required. Valley of the Rogue: Veteran's Powwow 10 a.m. to 6 p.m. June 3 and 10 a.m. to 4 p.m. June 4. The event includes a powwow ceremony with gourd dancing and vender booths. It is open to all veterans, tribal members or not. Honeyman: An educational film screening will be held at the Amphitheater located in B loop overnight campground from 1 to 3 p.m. Park at the Sand Dunes Day use parking area and walk to the amphitheater, or find limited parking by the campground registration booth. This event is weather dependent. L.L. Stub Stewart: The Friends of Stub Stewart State Park will have booths and tables set up all around the Welcome Center building dedicated to local fire departments, state forestry agencies and volunteer organizations. Free snacks and refreshments provided by the friends group, in addition to arts and crafts activities and interpretive displays 9 a.m. to 3 p.m. Luckiamute: Discover the birds that call Luckiamute Natural Area home by participating in Bird Bingo 9 a.m. to noon. Register online. Participants who pre-register will receive a bingo card on the day of the event that consists of birds and plants that are common in the park. The activity begins with a Ranger led casual stroll along the North Luckiamute Trail. We will supply Binoculars to all registered participants. Sitka Sedge: Join Park staff for a guided hike at Sitka Sedge State Natural Area to learn about the local plants and wildlife 10 a.m. to 12:30 p.m. Meet at the Sitka Sedge State Natural Area Parking Lot off of Sandlake Road. Dress for the weather, bring water and a snack. The first half mile is flat on packed gravel that is accessible for strollers and wheelchairs. Fishing is also free statewide June 3 and 4, courtesy of Oregon Department of Fish and Wildlife (ODFW). Learn more at https://myodfw.com/articles/2023-free-fishing-days-and-events. For camping availability, please check oregonstateparks.reserveamerica.com or visit first-come-first served sites: https://stateparks.oregon.gov/index.cfm?do=reserve.first-come
Hook a bass to reel in cash
Coquille Tribe release – MYRTLE POINT – For the second year in a row, south coast anglers have the chance to catch thousands of dollars in the Coquille River. How? By dropping a line in the water and hooking a bass. The Coquille Port Commission in coordination with Coquille STEP, ODFW, the Coquille Indian Tribe and the Bandon Port Commission is hosting the 2nd annual Small Mouth Bass Derby. "I know for a fact, if we can get a bunch of fishing poles out there we can wipe out the bass," Port Commissioner Fred Fry said. And there are plenty of reasons to go out. "We will have one fish worth $10,000, three worth $1,000 and the rest will range from $200 to $50," Fry said. Fish from Riverton to Powers will be microchipped. Unlike most bass derbies, this event is not catch-and-release. Just the opposite: The whole point is to rid the river of as many small-mouth bass as possible, thereby reducing predation on salmon smolts. Voracious bass are unwelcome invaders in the Coquille, where various agencies and community organizations are cooperating to restore dwindling salmon populations. The port's first derby, last year, removed about 3,000 bass from the river. Some became tasty dinners for anglers. The rest became crab bait. Organizers encourage anglers to keep every small-mouth bass they catch, no matter how small. The Coquille River has no limit on small-mouth bass, and each one is a potential money winner. The derby starts the weekend of June 3rd and 4th, "the free fishing weekend," which means no license is required. But unlike last year, it won't be limited to two weekends. "We changed the format," Fry said. "It's going to go all summer long." So, all summer, until it ends on the weekend of September 9th and 10th, volunteers will scan fish to see if they contain a microchip worth one of the cash prizes. The volunteers will be at Sturdivant Park in Coquille on Saturdays from 2 to 8 p.m. and at the Myrtle Point boat ramp on Sundays at the same time. Contestants are encouraged to freeze their fish throughout the week and bring them in on the weekends to scan for winners. The derby costs $20 and contestants must sign up before fishing. This can be done at over-the-counter ticket sites in Charleston, Bandon, Coquille and Myrtle Point. The addresses are on the Port of Coquille's website at www.thepocrd.com and its Facebook page.
Spearfishing and bait use for smallmouth bass temporarily allowed on Coquille River system
CHARLESTON, Ore – Spearfishing for smallmouth bass is once again allowed on the Coquille River June 1 – Oct. 31. Spears, spear guns and angling with bait to take smallmouth bass is allowed, and there are no harvest size or limits. The temporary rule is meant to help reduce impacts of non-native smallmouth bass on wild fall Chinook salmon in the mainstem Coquille River and the East, Middle, North, and South forks. In the South Fork Coquille, the regulation applies from the mouth to the U.S. Forest Service boundary near Powers. Spearfishing is another tool to remove smallmouth bass and help native fish. Many spear fishing anglers participated in this unique harvest opportunity since 2020. Anglers can use access maps to the South Fork Coquille and lower Coquille and a map of smallmouth bass distribution to target these fish. ODFW has a helpful series of videos on spearfishing the Coquille River, including how to build your own fishing spear and how to filet a smallmouth bass. Although wild fall chinook in the Coquille suffered from poor ocean conditions, predation by smallmouth bass is the primary reason these fish have not rebounded to the same extent as in other coastal rivers. Smallmouth bass predating on Pacific lamprey and other native species is also a concern. Since discovery of illegally introduced smallmouth bass in the Coquille River, these invasive fish expanded their range and now are present up to the Forest Service boundary above Powers in the South Fork, up to Laverne Park in the North Fork, and up to Sandy Creek in the Middle Fork. Warm summer temperatures and low flows favor smallmouth bass over native fish and allow them to make further inroads into salmon habitat. ODFW and partners, including the Coquille Indian Tribe, electrofished for smallmouth bass the past three years and will continue to investigate other removal methods to reduce predation on juvenile wild fall Chinook. Multiple age classes of smallmouth bass were first confirmed in the Coquille in 2011 meaning the fish had been in the river for multiple spawning cycles.
Temporary angling restrictions on Umpqua River
ODFW release – ROSEBURG, Ore – Beginning Thursday, June 1, angling at the mouth of all Umpqua River tributaries is prohibited from Scottsburg Bridge upstream to River Forks boat ramp. Angling is prohibited within 200 feet from all portions of a tributary's mouth and in the tributaries themselves from the mouth to 200 feet upstream. This rule is in effect through Sept. 30, 2023. The rule protects wild summer steelhead, early returning fall Chinook, and other native fish which are vulnerable while holding in colder water near tributary mouths during summer. Umpqua River water temperatures quickly rise in summer and about a third of Douglas County remains in abnormally dry to drought conditions. Other regulation reminders: Umpqua River mainstem: though June 30 in areas open to Chinook retention, anglers can keep one wild adult Chinook per day, five per year. North Umpqua River: through June 30 in areas open to Chinook retention, anglers can keep one wild adult Chinook per day, 10 per year in aggregate with the mainstem Umpqua River. When summer in Douglas County heats up, practice these tips for hot weather angling: Fish during the cooler early mornings. Land your fish quickly to help increase survival rates. Keep your fish in at least six inches of water while releasing it. Revive the fish before release. Keep the fish upright facing into the current; if the current is slow, move the fish back and forth slowly to help oxygenate the gills.
ODFW to host family fishing event at Trask Hatchery June 3
ODFW release – TILLAMOOK, Ore. — The Oregon Department of Fish and Wildlife will host a family fishing event on Saturday, June 3 at Trask Hatchery. The event will run from 9 a.m. to 12 p.m. for kids under 16 years old and from noon to 3 p.m. (or until all fish have been caught) for all ages. Free Fishing Weekend in Oregon is June 3-4 and no fishing/shellfish licenses or tags are required on those two days. Both Oregon residents and nonresidents can fish for free. ODFW will provide equipment including rods, reels and bait as well as some light refreshments, certificates and educational materials at the Trask Hatchery event. ODFW staff and volunteers will be available to answer questions and offer assistance to less experienced anglers. The limit is three rainbow trout per person. Ice will be provided but no fish cleaning service. The event is free and registration is not required. Because it is Free Fishing Weekend (June 3-4), no license is required. From Tillamook using Hwy 6: Travel East on Hwy 6 2.5 miles to Olson Road. Turn South onto Olson Rd travel 1/2 mile to the intersection of Olson Rd and 3rd street. Continue South through intersection onto Trask River Rd. Travel 1.5 miles on Trask River Rd to Johnson Bridge. Continue across Johnson Bridge onto Long Prairie Rd. Continue on Long Prairie Rd. 1/2 mile to Chance Rd. Turn East onto Chance Rd. Travel 2.5 miles to Hatchery.
Festival of the Land, Central Oregon
The Festival of The Land will celebrate the diverse history, food and cultures from Central Oregon 10 a.m. to 3 p.m. June 3. Since time immemorial people have traveled to the Crooked River and the Deschutes River canyons to hunt, trap, fish or grow food. Many cultures have made this area home, and each brings a diversity of experiences to share. This multicultural event looks at the food and resources that drew many cultures to this area and what inspires us all now to steward this land for the future. This festival is part of State Parks Day, an annual celebration that offers free camping and day-use the first Saturday in June at Oregon State Parks. It is one of seven events on June 3 this year in addition to free camping and day use. Festival of the Land visitors will have an opportunity to learn about the Confederated Tribes of Warm Springs, vaqueros who rode and roped on cattle ranches, wheat farmers who came from Grandview and Geneva and the cove's orchard that once was the primary source of fresh fruit for Central Oregon. Oregon State University now uses the land for research of best practices. The event includes: History, culture and wildlife displays; Dutch oven cooking demonstrations; Archeology hikes; Kids' games and activities; Petting "zoo"; Mini farmers market, pollinator, wildfire and fish displays, fry bread and more. Parking is free but will be limited. Additional parking will be available with a shuttle service from the Crooked River Campground area. The event was made possible through the generous support of PGE and the Rotary Club of Jefferson County as well as several community groups, organizations and nonprofits. Learn more about the event on the facebook page or event page.
North Morrison Structure Fire
CBFD release – June 1, 2023 – Coos Bay Firefighters were dispatched to the 400 block of North Morrison Street in the Empire District of Coos Bay early Thursday morning for a reported structure fire. The first fire engine arriving found heavy fire conditions coming from the rear of the residential dwelling. The fire was quickly knocked down and is considered a total loss. The two occupants both suffered burns and were treated on scene by Coos Bay Fire paramedics and Bay Cities Ambulance paramedics and then transported to Bay Area Hospital. One patient is being flown to Legacy Emanuel Hospital in Portland, and the other patient is in stable condition at Bay Area Hospital. The cause of the fire is still under investigation, but is believed to be unintentional. Coos Bay Fire Department would like to remind its citizens that they offer a free smoke alarm installation program. Smoke alarms reduce your chances of being injured or dying in a fire by more than 50%. If you would like any additional information about this fire, the free smoke alarm program or Coos Bay Fire Department, contact the fire department at 541-269-1191.
Warrant Service, Snedden Ln.
CCSO release – Date / Time: June 1st, 2023 around 4:15 pm; Case Number(s): S23-12427; Classification: Warrant service and new charges of Resisting Arrest and Attempted; Escape 3; Location: Snedden Lane in Coos Bay; Suspect(s): Shanor Allen (42); Wanted Coos County man resists arrest and tries to escape. On June 1st, 2023, around 4:15 pm, Coos County Dispatch Center received a call regarding an ongoing civil issue on Snedden Lane in Coos Bay that involved Shanor Allen. Mr. Allen had a valid warrant for his arrest. Deputy H. Francis responded to the area and made contact with Mr. Allen. Mr. Allen was advised he was under arrest for an active warrant and to place his hands behind his back. Deputy Francis attempted to put handcuffs on Mr. Allen, but he pulled away and refused to place his hands behind his back, and repeatedly tried to get away from Deputy Francis. Mr. Allen
had to be taken to the ground to be placed in handcuffs. Once Mr. Allen was handcuffed, Deputy Francis finished investigating the original civil issue. Mr. Allen was transported to the Coos County Jail and booked on the active warrant and the new charges of resisting arrest and attempted escape in the 3rd degree.
Arrest
According to an entry on the CBPD log for May 31, 8:48 a.m., 500 Central Ave., CBPD, 21-year old Jacob Anthony Montanaro charged with Reckless Driving, Reckless Endangering & Failure to Perform Duties of a Driver, "Montanaro transported to CCJ."
License Plate Theft
According to an entry on the CBPD log for May 31, 1:36 p.m., 1020 So. 1st St., Fred Meyer, "theft of license plate."
UEMV
According to an entry on the CBPD log for May 31, 9:54 p.m., 997 So. 1st St., Abby's, "unlawful entry into MV."
Wanted
According to an entry on the CBPD log for June 1, 2:30 a.m., 800 block So. Broadway, "located wanted as result of contact," 35-year old Sophia N. Romero charged arrested on CBPD warrant charging Criminal Trespass I & Criminal Trespass II X5 counts, "arrested and transported CCJ."
Arrest
According to an entry on the CQPD log for May 31, 10:16 p.m., 96000 block Hwy. 42 South, Sturdivant Park, "arrest as result of suspicious vehicle contact," 38-year old Veronica Eliona Espinoza charged with Theft III, "arrested and transported CCJ on CBPD's PC."
Indecent
According to an entry on the CQPD log for June 1, 11;30 p.m., 96000 block Hwy. 42 South, Sturdivant Park, "out with suspicious vehicle."
WX
Plentiful sunshine along the South Oregon Coast with highs in the low 60s and winds from the North at 10-20 mph. Mostly clear tonight with lows in the low to mid 40s and winds from the North to Northeast at 10-15 mph. Mostly sunny but breezy over the weekend with highs in the low 60s.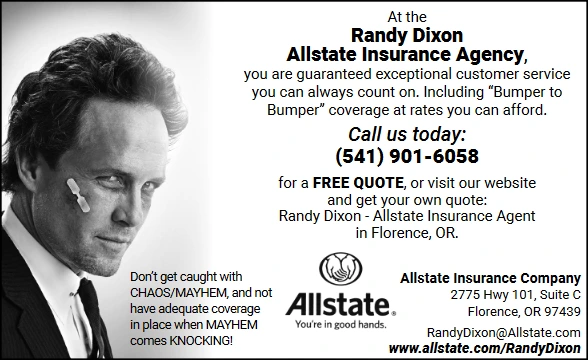 Sports
Parade of Bulldog Champions
NBHS release – Every North Bend Bulldog that qualified and participated in state competition this year – from athletics to extracurricular activities — will join in the celebratory parade on Thursday, June 2, 2023, at NOON. Participants will line up in the back-parking lot of North Bend High School at 11:45AM. Thank you to North Bend Fire & Rescue and The City of North Bend for organizing this event.
Prep bb
The OSAA State Baseball Championships will be held Saturday at two locations. The 2A/1A championship features Blanchet Catholic & Kennedy at 3:30 p.m., Volcanoes Stadium, Keizer; the 3A championship has Banks & Cascade Christian 7 p.m., PK Park, Eugene; the 4A championship is Pendleton vs. Scappoose 7 p.m., Volcanoes Stadium; the 5A at PK Park, Eugene, has West Albany & Thurston 3:30 p.m.; the 6A championship between Jesuit & West Linn is at noon, Volcanoes Stadium. Games will be broadcast on the OSAA Radio Network and televised by NFHS. Broadcast information can be found at www.osaa.org.
Prep sb
The OSAA State Softball Championships are Friday and Saturday at Jane Sanders Stadium, University of Oregon campus, Eugene. The 2A/1A championship is between Weston-McEwen/Griswold & Grant Union/Prairie City at 2 p.m. Friday; the 3A championship has Burns/Crane vs. Scio at 5 p.m. Friday; the 4A championship is The Dalles vs. Henley 6 p.m. Saturday; the 5A championship has Lebanon & Dallas/Perrydale noon Saturday; and, the 6A has Oregon City vs. Sheldon 3 p.m. Saturday. Games can be followed on the OSAA Radio Network and televised by NFHS. Go to www.OSAA.org for broadcast information.
NBHS Softball All-League
As voted on by the District 4 coaches following the conclusion to the regular season. 1st team: Pitcher: Sarah Shore; Catcher: Mckenzie Breakfield; Infield: Emma Spalding; Outfield: Erica McClintock. 2nd Team: Infield: Laila Veloz; Outfield: Mirra Riddle. Honorable Mention: Infield: Angel Andrade.
SWOCC Athletic Hall of Fame
SWOCC release – Coos Bay, OR – Southwestern Oregon Community College's Hall of Fame honors former athletes, teams, coaches, and those that had a large impact on the College and its athletic programs. Two teams and one individual span a wide range of Laker history and make up Southwestern's Hall of Fame class of 2023. This year's inductees are: The First Men's Golf team (1967-68) including players Bob Seelig, Ron Thompson*, Roger Ketchum, Clint* & Doug Laird*, Al McDougall*, Dave Johnson*, John Duncan*, Bob Abbey*, Chuck Smith*, and Wayne Overstake*, coached by James (Jim) Ferguson; The First Women's Golf Team (1997-98) including players Margot Patula, Tiea Pruitt, and Raynae Harding; The First Men's Golf NWAC Champion (2008-09), Andrew Von Lossow, coached by Michael Chupka. The Hall of Fame Induction Ceremony will take place on the Coos Campus (1988 Newmark Ave., Coos Bay) in Prosper Hall on Saturday, June 3, 2023 at 3:00 pm during the Annual Sports Awards. The event is free and open to the public. There will be food available following the ceremony. The College is seeking help in locating team members, noted with an (*). Anyone having information on the inductees may contact the Hall of Fame Committee at hof@socc.edu or 541-888-7208.
Newport Marathon
Hundreds of runners will be pounding the pavement of Yaquina Bay Road between Newport and Toledo Saturday for the annual Newport Marathon a qualifying race for the Boston Marathon. The 26.2-mile course follows the Bay from the historic bridge, along the Waterfront and out along the river before returning and finishing on the Waterfront. A half-marathon and walk are also offered. More information at www.newportmarathon.org
NCAA bb
Both Oregon and Oregon State enter the 2023 NCAA Baseball Regionals back east. The Beavers (39-18) are at the Baton Rouge Regional, LA to open against Sam Houston State Friday, 5 p.m., ESPN+, while the Ducks (37-20) are at the Nashville Regional, TN to play Xavier Friday, 10 a.m., ESPN+